According to the Amalgamated Transit Union (ATU), every 10 days one person is struck by a bus in North America. One of the main causes of this sad statistic is blind spots on transit buses. Turning a several ton bus is quite a challenge, with left turns being especially dangerous. The good news is there is a quick fix to eliminate bus blind spots by using advanced perimeter safety technology while long term solutions such as structural changes to the design of buses and Vision Zero campaigns are put in place.
Protecting Pedestrians
In the last year we've seen a rise of stories about experienced drivers, involved in serious accidents with pedestrians being struck as a result of being in the bus' blind spot. In most of the cases the pedestrians weren't seen from the vehicle.
Brian Sherlock, Safety Specialist with Amalgamated Transit Union International, points out that if a bus is waiting in traffic to turn left, 19 people could stand side by side on the far side of the street and disappear from the driver's view. When compared to European buses, North American buses have larger blind spots due to the vehicles' design. While it's possible to make structural changes for bus manufacturers and redesign mirror positioning and window seals, it could take years to implement these changes in most transit fleets. Meanwhile, there is another solution – advanced perimeter safety technology.
NHTSA Administrator Dr. Mark Rosekind, Ph.D., says, "We should be looking at changes in bus manufacturing that make operator visibility a priority, and look at cross-view mirrors that give bus operators the best forward visibility. But we should also be looking at advanced technologies… that have the potential for exponentially increasing pedestrian protection."*
 J.P. Patafio, Vice President at Transport Workers Union Local 100, which represents transit operators, notices the same: "It has to happen today.  We need the technology to compensate for the blind spots on the bus. ."**
Maximizing Visibility
Luckily, safety technology today can virtually eliminate blind spots and provide drivers with a clear, unobstructed, real-time view around the vehicle. Traditional mirror and rear vision camera technology still leave pedestrians walking near a transit bus vulnerable to dangerous blind spots. Perimeter monitoring solutions are the most efficient for improving visibility by providing drivers with a complete 360 degree view of their surroundings.
For example, on Seon's new inView 360 product, four cameras are strategically placed around the vehicle to capture a 195 degree ultra-wide angle view of each side of the vehicle. These four views are blended and converted into a single "top-view" image (bird's eye view) that is displayed to the driver in real-time on a dash-mounted monitor. A split screen also displays a second view that changes depending on operating conditions.  For example, when a driver employs the left turn signal this will change the second screen view to the left side view. When the vehicle is traveling in reverse, the rear-view will be displayed automatically to aid the driver park in tight spaces and see pedestrians behind the bus.
Here is the example of views available to the driver on a transit bus in Chapel Hill, NC:
Complete view around the vehicle in a single image + Front View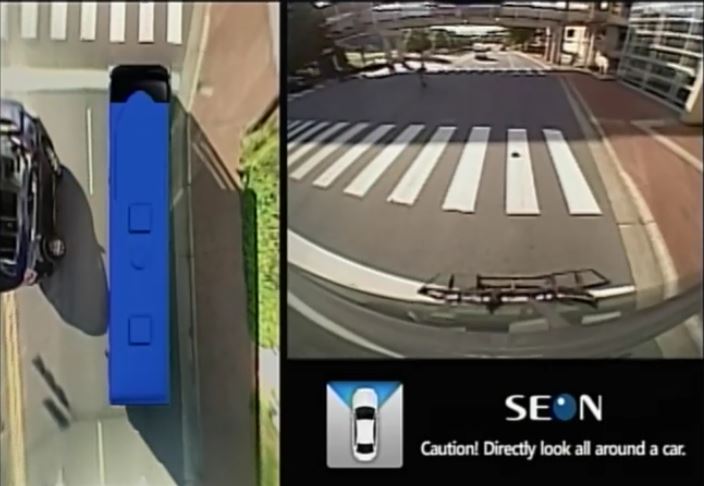 By installing a perimeter safety system such as inView 360, transit fleets can eliminate blind spots and significantly improve overall safety of public transit for pedestrians by having a better view of all sides of the bus.
Implementing Strategies
Advanced technology doesn't downplay importance of the Vision Zero strategy and campaigns with the long-term goal of zero traffic fatalities and serious injuries on roads. Even though planning and implementation might require a considerable effort and time from transit agencies, coupled with the right technology and properly implemented, the program might bring significant results improving overall street safety.
In January 2016, Canada adopted Vision Zero as a federal strategy. In the United States, Vision Zero has been ratified by numerous major cities with more and more communities currently coming on board. Such centers as Seattle, San Diego, Boston, New York, and Portland offer great online resources for educating general public, implement successful safety campaigns and redesigning streets. In Canada, Edmonton City was one of the first Canadian cities to adopt Vision Zero strategy with a Safe System Approach that includes five aspects: engineering, education, enforcement, engagement, and evaluation.
As the policies are being set in place, and bus manufacturing companies are continually improving bus design, advanced perimeter safety technology is something that already works and can be implemented today. Reduce risk and save the lives of pedestrians by supporting drivers with the best available tool to improve visibility around their vehicles.
Want to learn more about perimeter safety? Visit Seon's site
* MTA Whitepaper: Let's See the Big Picture. MTA Bus Safety Symposium. 2016.
** The Big Story. New NY buses have Wi-Fi but no tech to avoid those on foot. May 22, 2016. By Deepti Hajela.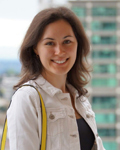 Vlada Terenina
Marketing Coordinator | Seon
vlada.terenina@seon.com