In October, Seon first launched a campaign to Stop Violence Against Drivers to help the transportation industry make transit safer for operators. Since then, we've gathered a toolkit of expert opinions and helpful resources to help reduce the risk to your workforce and your organization: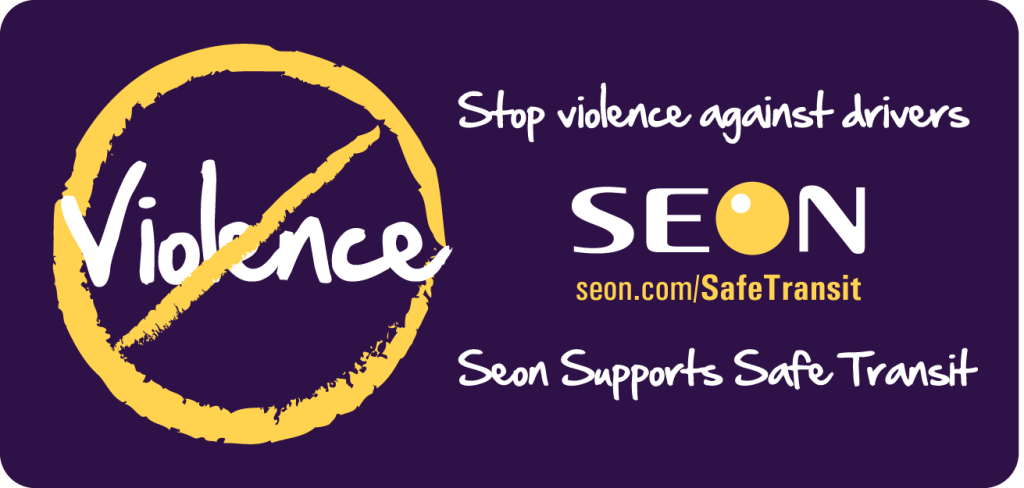 Discussing Best Practices
A month ago we started a LinkedIn discussion on what training and tools transit agencies provide to drivers to protect them from violence and on-board assaults. We were excited to see that that this topic attracted the attention of transportation professionals from all over the world who contributed some of their best practices and expert advice.
As it was pointed out, the focus of training should always be on assault prevention and conflict resolution. Professionals mentioned that the most effective tools for immediate driver defense are installation of indoor and outdoor cameras, alarm buttons, barriers or security screens, and fleet GPS tracking. Best agency training practices include voice judo (verbal conflict resolution) courses, as well as role playing on how to deal with difficult customers or terrorist attacks. This training can be performed in a classroom setting or on location (for example, in a mock driver's cabin) with actors playing different types of passengers to test various techniques of driver response to the offender's actions. This type of hands-on training is preferable based on the assumption that the trained person remembers only 10% of what he/she reads, but 90% of what he/she does.
It was also discussed, that several helpful courses and materials for driver protection and customer service improvement are provided by the Federal Transit Administration (FTA) through the National Training Institute (NTI) and by the Canadian Urban Transit Association (CUTA) Transit Ambassador Program. You can read more about these programs and training sessions here:
1)      NTI for FTA – http://www.ntionline.com/courses/list.php
2)      CUTA – http://www.cutaactu.ca/en/public-transit/educationandtraining/transit_ambassador.asp
Strategy Check-up
To provide transit agencies with some successful strategies for bus driver protection, we've created a 3-minute video on "Making Transit Safer for Bus Operators". You can watch it both in our blog and on Seon's YouTube channel.
Sharing Ideas
To bring together transportation professionals who are interested in sharing their opinions, knowledge, and resources on public transit safety and the protection of bus operators from assaults, we've created an open professional LinkedIn group, Stop Violence Against Drivers. You are more than welcome to join our community and participate in group conversations where you can receive or offer advice and learn different points of view on transit safety issues: http://linkd.in/12oPnfY
Free Resources
As a part of our campaign, we've created a free on-line resource page that you can access here: http://seon.com/resources
You will find links to research and best practices, legislation and industry working groups, as well as information on relevant awareness campaigns.
To get the most recent updates on our Stop Violence Against Drivers campaign progress, follow us on our Social Media accounts in Twitter, Facebook, LinkedIn, and Google+ where we encourage you to share your stories with other transit agencies using the hashtag #SafeTransit.
Vlada Terenina
Marketing Coordinator | Seon
vlada.terenina@seon.com