The school year has just started, but some school districts have already made big steps towards creating safer and more respectful communities by taking part in our United Against Bullying coloring contest, organized by Safe Fleet and its subsidiaries. Part 1 of the contest was held from August 15th through September 15th and was open to students from all schools across the United States and Canada. While the first phase of the competition is over, there is still a chance to get creative to stop bullying: stay with us, details are coming up.
Inspiring Outlines
The United Against Bullying coloring contest is held in two parts: part 1 – outline drawing, part 2 – coloring the winning outline. For the Part 1, Safe Fleet and its subsidiaries received drawings from all over the United States and Canada. The outlines were illustrating multiple messages, united by one idea – to eliminate bullying.
"We were impressed by the creativity of students who took part in our contest and by the genuine interest of school communities in our program," said Bob Parks, Vice President Human Resources at Safe Fleet. "The contest submissions covered a range of anti-bullying messages, teaching young people to be kind and supportive to each other. We thank all the students, educators, and parents for active participation and attention to the issue of bullying. It was a great inspiration for our team to continue working on solutions and initiatives to stop bullying."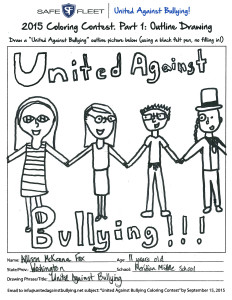 The winning entry was submitted by Allison McKenna Fox from Meridian Middle School located in Lynden, WA. Her outline encourages kids to work together to stop bullying. As a winner, Allison will receive an anti-bullying teddy bear, medal, button, and certificate.
We congratulate Allison and her family and thank everyone who participated in the first phase of our contest for their amazing work!
What's Next?
With National Bullying Prevention Month coming up, we are opening Part 2 of the coloring contest, which will be held from October 1st till October 31st. In this phase, students will color and submit the outline designed by Allison McKenna Fox. The winners will be selected from three different age categories: 5-7 years old, 8-10 years old, and 11+ years old. Each winner will receive an anti-bullying medal, a button and certificate, and a teddy bear. The winners' schools will receive $500 towards the implementation of anti-bullying initiatives.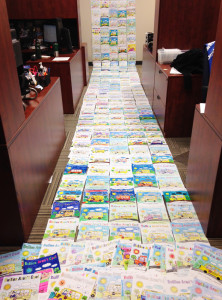 Last year, when Seon held its own anti-bullying coloring contest we received over 1500 entries. There was so much effort, creativity, and heart put into each work that it inspired us to continue working on initiatives empowering youth. This year we hope to see even more participants in the second phase of the United Against Bullying coloring contest.
So, get creative to stop bullying and read more details about the contest here.
Join our anti-bullying movement and get free resources to support the campaign at http://seon.com/anti-bullying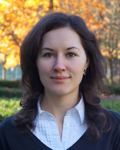 Vlada Terenina
Marketing Coordinator | Seon
vlada.terenina@seon.com