With National Bullying Prevention Month over, we are excited to announce the results of our "A Bully-Free Zone" coloring contest. As in 2013, this year our team received an impressive number of creative artwork from children across Canada and the United States. From beautiful drawings and inspiring discussions at schools we can see how truly our participants care about creating a safe and respectful community without bullying.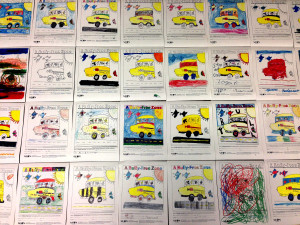 How You Made a Difference
In 2013, we launched the "Bullies Aren't Cool" coloring contest to engage educators, children, parents, school bus drivers, and transportation staff in inspiring conversations and activities to prevent bullying. We were impressed by the number of responses and entries that we received and by the interest of the community in this important cause. To further spread awareness about bullying, to create safe and respectful environment for youth, the "A Bully-Free Zone" coloring contest was launched in October 2014. And again, a year later, the contest was a huge success.
We noticed how much effort, creativity, and heart were put into each work and it inspired us to grow our anti-bullying movement for years to come. Our team is sincerely thankful to both the children who colored the drawings, and adults who educated and encouraged young participants to support the campaign.
What about the Results?
During the month-long contest we received over 500 entries from almost 50 school districts across Canada and the US. What a tough competition to judge!
Based on creativity, coloring skill and overall artistic abilities, Seon staff has selected winners in three age categories: 5–7, 8–10 and 11 and older. The contest results will be announced on Tuesday, November 11th, 2014 at the annual NAPT Conference & Trade Show, where Seon will be presenting advanced safety technologies in pupil transportation. The announcement will be followed by a post on our web-site, Twitter, Facebook, and Instagram pages. Each winner will get one Seon safety bear and one official anti-bullying supporter medal. Seon will also award a Bully Project DVD and Educator's kit and a $500 donation to go towards anti-bullying education for the school of the winner in each age category..
Once again, we thank everyone who took part in our "A Bully-Free Zone" Coloring Contest and we wish good luck to all participants! And although the competition is over, our team will continue working with school communities to prevent and stop bullying.
 Join our anti-bullying movement and get free resources to support the campaign at http://seon.com/anti-bullying
Vlada Terenina
Marketing Coordinator | Seon
vlada.terenina@seon.com