Every successful transit agency knows the benefits of a proactive approach to passenger and driver safety, which consists of blending together three essential ingredients: policies, education, and technology. However, it can be difficult to secure funding or justify investment in video surveillance systems. A successful strategy to overcome this hurdle is to identify your agency's problem areas and calculate a return on investment (ROI) to reveal the benefits of investing in the latest security technology.
This SlideShare presentation will help you measure the ROI of video surveillance for transit and justify funding. Use this guide as a roadmap to measure what improvements you can get by implementing more efficient technology and how quickly the costs will be repaid. You will also find real-life examples from agencies that already justified their investments and saw amazing results, including reduction of on-board crime and faster, easier claim investigation.
Did you find this guide helpful? Let us know in the comments below. If you liked this post, share it with your network or community.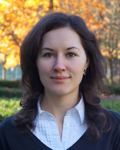 Vlada Terenina
Marketing Coordinator | Seon
vlada.terenina@seon.com