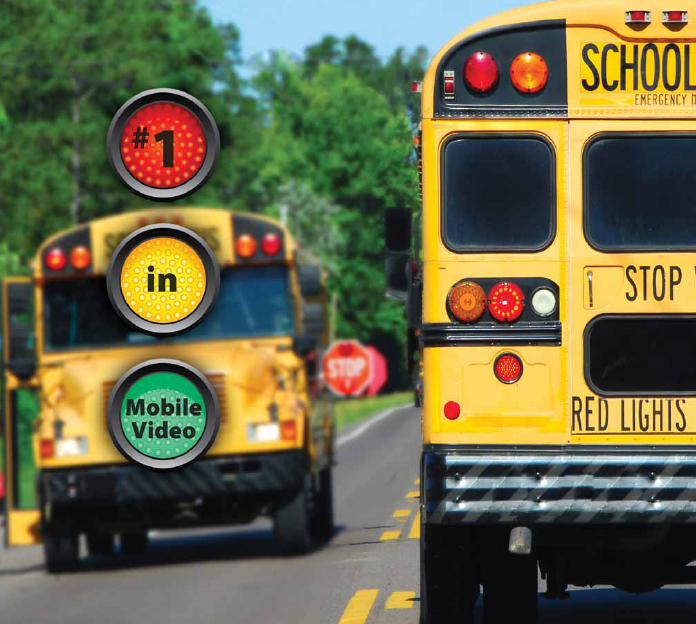 Seon has been providing mobile surveillance systems to school districts across North America for over a decade. Our many valuable customers and contacts cite our camera system reliability and image quality as key factors in why they continue to choose Seon solutions over any other vendor. These two factors have never been more important, now that stop-arm cameras are gaining in popularity. Districts are relying on the camera image quality and DVR reliability to capture stop-arm violators in action. If a DVR fails to record a stop-arm incident, no evidence of the violation will be available to identify the vehicle and notify the driver of their error, allowing this behavior to continue and risking the lives of students in the future.
Choose a vendor with a track record for reliability
Ensuring your stop-arm supplier has a track record of reliability is an essential step in choosing the right stop-arm solution. With over 140,000 systems sold across the USA, Seon's systems have proven to be reliable, one customer citing less than a .01% failure rate in his fleet. This low failure rate is a result of careful design and the know-how of engineers who architect our products to withstand the rigors of the road. Choosing quality parts, such as hard disk drives (HDDs) instead of secure digital (SD) memory cards, increases the capacity and lifespan of your recording medium, ensuring you always capture what is most important.
Dale Dunham, Assistant Transportation Director at Centralia School District #401, Washington, has Seon camera systems on his school buses. He claims that there have been no problems in any loss of footage. Mr. Dunham states, "Our Seon hard drives work superbly. There have been no issues at all, and they are easy to use — you plug them in, usage is simple, and point blank, they work. I have absolutely no complaints with our hard drives, and it is great to be able to rely on Seon's DVR systems."
Verify stop-arm violation image quality
A critical next step in choosing the right stop-arm solution is verifying the quality of the cameras used to capture license plates of stop-arm violators. "There are really two key factors in consistently and accurately capturing the license plates of vehicles illegally passing a school bus — camera position and image quality," says Peter Simmons, Director of Marketing at Seon. "Even if you install the cameras in the right position, the camera must be designed to provide high-resolution images, clear enough to capture the license plates of vehicles passing at potentially high speeds."
Not just any camera can be mounted outdoors to capture details like a license plate number. It must be an outdoor-rated camera, built to stand up to extreme humidity or the pressure of a bus wash. The camera must also have at least a 16 mm telephoto lens to be able to identify numbers on a license plate. Seon has introduced a high-definition camera that delivers 3x the resolution of a typical analog camera, ideal for this application.
Check that state laws allow for stop-arm cameras
Consider also whether your state has legislation that allows for automated cameras or video recording systems to detect and prosecute individuals illegally passing school buses. If state or local laws do not allow for the use of automated cameras on school buses, there may be an issue using the video evidence in court. Working with your camera vendor to understand the state law is always a good idea.
Beware of 'no cost' solutions
Now that you've found a vendor that has a track record for reliability, verified the image quality to ensure video evidence is good enough for use in prosecuting offenders, and confirmed your state law allows for the use of stop-arm cameras, it is time to make a move. Some stop-arm vendors offer 'free' or 'no cost' equipment in exchange for the lion's share of the ticket revenue. Tread carefully when you consider entering into a multi-year contract with this type of supplier. Make sure you are comfortable with giving up control over your school bus video footage and what buses the systems are placed on.
With Seon, adding the capability to capture stop-arm violations can be as simple and cost effective as adding one exterior camera to your existing system. Investing in your own stop-arm solution ensures you get complete coverage of your entire fleet and you maintain the chain of custody for your video footage.
Choosing the right stop-arm solution can be tricky, especially since it is a relatively new area of school bus surveillance. We hope these handy tips will set you on the right path to student safety.