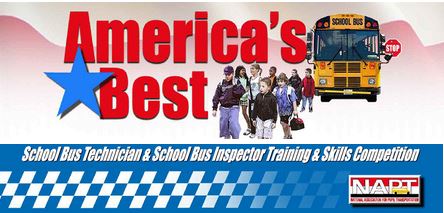 Thirty-one competitors are set to take part in a training and skills competition for America's Best School Bus Technician and Inspector from September 24 to 27th in Seattle, Washington.  This year's event is proudly hosted by the Washington Association for Pupil Transportation (WAPT), PACCAR, and Federal Way School Transportation.  "America's Best", sponsored by the National Association for Pupil Transportation (NAPT) and supported by other industry sponsors like Seon, is North America's only annual premier skills competition exclusively for the professional School Bus Technician and Inspector.
This year marks the 10th anniversary of the event designed to provide the latest School Bus training and to determine America's Best School Bus Technician and Inspector.  Competitors at the event are truly the 'best of the best' having successfully competed at the local or state level.
The National Competition will include separate competitions for Technicians and Inspectors. Each of these competitions will include both a Written Exam and a Hands-On portion. Each competitor's total score will be determined by combining the individual scores for each phase of the competition. The total scores will be used to determine the overall winners for both the Technicians and the Inspectors.
School Bus training is a big part of the event with 75-80 school transportation employees from across North America receiving training on topics such as school bus braking systems, school bus inspection procedures, vehicle fluid analysis, electrical systems, and post-accident inspections, among others.
America's Best Competition is a growing success with the dedicated support of staff and vendors. "A special acknowledgement goes to our 2013 Hosts and the many dedicated sponsors who help ensure the success of this event," says Marshall Casey, chairperson of America's Best.
It is not a surprise that an event like this would have such encouragement. The America's Best mission says it all: "To be part of the safety process that the School Bus Industry provides, so that the safest school buses are utilized to transport precious cargo; our children."
Seon is proud to help sponsor the competition and will be there to support competitors in Seattle this week.
Check out America's Best's website for photos and information about the event.