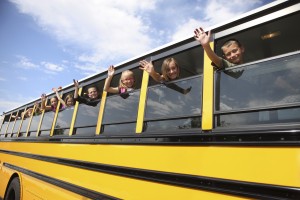 Mobile surveillance systems can be an important safety tool for school bus operators, offering the peace-of-mind that you are protecting your passengers and drivers from unacceptable behaviour, and ensuring that they arrive safely at their destination. Seon understands the importance of our mobile surveillance solutions, as approximately 25 million students are transported each day to school in the United States alone.* Here are just five ways that mobile surveillance systems can help improve passenger safety:
Prevent and Verify Bullying
Bullying is a big problem. The National Education Association reports that students who are bullied may fear going to school, using the bathroom, and riding on the school bus.**  Mobile surveillance systems promote a safe environment on the school bus for both students and employees by discouraging bullying and ensuring that each child has a safe ride home. Cameras can be installed inside of your bus and set up to view exactly what you want to see. Not only can cameras provide clear evidence of any bullying that happens on your school bus, but simply having cameras installed shows kids that they are being watched and this can stop bullying from starting in the first place.
Reinforce Good Driver Behavior
In order for children to remain safe on the school bus, and arrive home securely, proper training and good driver behaviour is necessary. The footage from our school bus cameras can be used to train drivers in real-life scenarios. It gives them useful examples to learn from, and provides specific driver situations to avoid. In addition, if it is a concern of yours, a camera can be placed overhead of the driver's seat in order to avoid the driver using a handheld device while operating the school bus.
Reconstruct Accidents
The reality is that sometimes road accidents happen. Mobile surveillance solutions give you the security of knowing what really went on at the scene. Cameras can be mounted on the dashboard to document the chain of events happening in front of the school bus. Video viewing software, like Seon's vMax® software, lets you retrieve video from an alarmed event, and monitor your system to make sure that all events are captured. This ensures that the same mistakes are not made in the future to offer maximum safety for passengers and drivers.
Catch Stop-arm Violators
Many communities are concerned about school bus stop-arm violators. This is a problem for children that need to cross the street safely to go home. Stop-arm cameras, like Seon's CHW high-definition camera, are designed to deliver the clearest possible picture of passing vehicle license plates to help catch stop-arm violators and keep kids safe.
Protect the Privacy of Innocent Passengers
Passenger privacy is an important consideration when using a mobile surveillance system. Now you can easily blur the faces of anyone on the video with our new SmartBlur™ feature. "SmartBlur is unique because the feature is applied to the entire video clip as opposed to a single still image," says Peter Simmons, Director of Marketing at Seon Design. "This feature allows video archives to be sent to other personnel knowing that the privacy of innocent bystanders will be fully protected."
Passenger safety, accident management, and risk reduction are challenges that school bus transportation administrators face on a day-to-day basis. Mobile surveillance systems can be a useful tool to help administrators face these issues and know that their passengers and drivers are protected.