Video surveillance systems are a great tool for ensuring student and driver safety on school buses.  But having cameras installed on your buses without a well-defined video surveillance policy is a recipe for disaster, leaving your school district open to potential lawsuits or privacy complaints.
Here are three reasons why you need to publish a video surveillance policy today:
# 1 – The policy ensures the balance between security and an individual's right to privacy.
While the installation of bus cameras helps increase employee and student safety, the recorded footage may contain sensitive information and should be treated with care. Transportation managers can face a lot of requests to view the video to track student behavior in a recent bullying incident or provide evidence to the law enforcement authorities after a road accident.
How should school districts handle such requests? This is where the policy comes in handy.
This document should clearly show the purpose of the recorded video, the number and placement of cameras and the purposes for using recordings. The policy is also a great way to restrict access to monitoring and distributing video and appoint employees responsible for handling and archiving the recorded files.
At the same time, putting this document in place is one of the best ways to protect the reputation of the transportation department in cases of complaints from parents or drivers concerned about privacy.
# 2 – The policy helps to assign responsibility for video surveillance system and files.
This can be especially helpful if you have numerous staff and frequent video requests. Whenever a driver, parent or law enforcement officer comes to your department asking for a video recording, the responsible employee will know how to handle the situation according to the protocol.
The policy allows assigning tasks between different groups of personnel. For example, bus operators should have a special set of responsibilities to ensure the video system is operating correctly. Managers should be accountable for the security of all records and proper training of personnel dealing with the video surveillance system. The person responsible for handling all video-related duties should be able to protect the privacy and confidentiality of the recorded information.
# 3 – The policy ensures proper storage and distribution of recorded files.
Creating guidelines for storing and managing video will save your transportation department a lot of time. It will also help to keep the recordings safe and secure, and at the same time find the requested information faster.
Download Our Video Surveillance Policy Template
Don't have a policy in place, or don't know where to start?  Don't worry. To help you streamline all necessary procedures and save time, we have created a boilerplate template for a School Bus Video & Audio Surveillance Policy which you can download and update to suit your needs.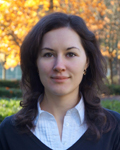 Vlada Terenina
Marketing Coordinator | Seon
vlada.terenina@seon.com