Established in 1986, Yankee Communications is a family business that specializes in selling top communication lines, and is the first Seon technology dealer operating in Benton, Maine. Among their clients are school districts, law enforcement, and construction companies. Yankee Communications has successfully grown their business by offering Seon video technology supported by outstanding customer service. The owner of the dealership, Rusty Bell, shared how a change in strategy can result in business growth and why focusing on customer needs is essential for every company.
Being in business for over 30 years, Yankee Communications has always put their customers first and believed in trusted, transparent relationships with clients. When it became harder to keep up with the competition from bigger companies, the family-owned business started looking at changing their strategy and offering their customers innovative products that could better suit their fleets.
"When Seon's sales representative, Dean August, approached us demonstrating the benefits of the company's latest technology, we had a few business concerns. Dean is more than just a sales person, he cared about our business and our customers. So he suggested a solution – to hire a dedicated technical maintenance person that could better support and understand our clients on-site and offer them the latest technology on the market depending on what they needed. That's when I asked my son-in-law, Matt Nielsen, to join me and work on improving our customer service."
Together with his son-in-law, Bell changed their entire approach to business. By offering customers the latest video technology from Seon and outstanding customer service, Yankee Communications achieved significant business results:
Business growth and expansion to new markets
Improved customer service and retention
Confidence in vendor technology
 Download the full case study to see how Yankee Communications achieved business growth.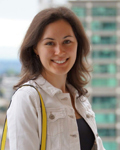 Vlada Terenina
Marketing Coordinator | Seon
vlada.terenina@seon.com