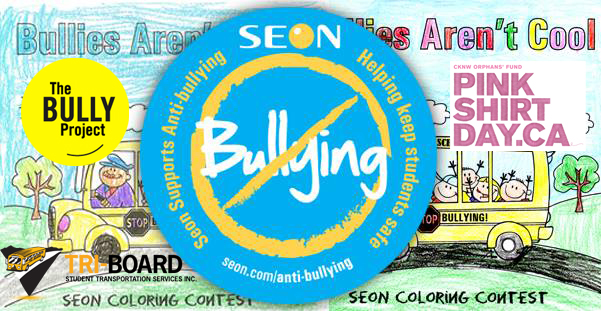 October is National Bullying Prevention Month, and as Seon blog readers are aware, we have started our "NO BULLIES ON MY BUS" campaign. We are more than half way through the month and have had tremendous support with the "Bullies Aren't Cool" Coloring Contest. The NAPT Annual Summit is next week, and we are excited to showcase our campaign with anti-bullying buttons to give away, and more! But right now, let's discuss a very important part of our cause: supporting other anti-bullying campaigns around the globe.
It's Simple: Supporting Other Anti-Bullying Campaigns Increases Awareness for the Cause
When supporting other campaigns, you raise awareness for the cause and in return, gain additional awareness for your own campaign. It's an easy concept: 'Support others, and be supported.' Good causes, like anti-bullying campaigns, are strengthened by support and partnership. The ultimate goal to keep in mind is: Let's spread the word that bullying is a problem so we can put an end to it.
Now is the Time!
National Bullying Prevention Month is an important time to dedicate to education and awareness. In most bullying situations, there is nothing done to resolve the issue: "One of the most unfortunate parts of school bullying statistics is that in about 85% of bullying cases, no intervention effort is made…to stop the bullying from taking place." (www.bullyingstatistics.org).Let's join forces and support each other in educating children, parents, teachers, principals, school bus drivers, and BULLIES on why bullying is bad, what they can do to stop it, and how to resolve a situation when it happens.
What Campaigns to Support? — Learn About These Organizations and YOU will make a Difference!
There are so many Anti-Bullying Campaigns out there to support. So join the cause and get moving! Perhaps you will be motivated to start your own Bully Project. Here are three inspirational organizations Seon supports. We thank them for supporting our "NO BULLIES ON MY BUS" Anti-bullying Campaign.
The Bully Project
We have joined 'The Bully Project,' a social action campaign inspired by the award-winning film, "BULLY." The campaign sparked a national movement to stop bullying that is transforming kids' lives and changing a culture of bullying into one of empathy and action. The goal is for people all over the world to start bully projects and collectively work to create safe, caring, and respectful schools and communities.
Pink Shirt Day
Seon supports 'Pink Shirt Day,' an annual campaign in Canada to support anti-bullying. The organization encourages supporters to wear something pink on February 26, 2014 to symbolize that we, as a society, will not tolerate bullying anywhere. Seon staff will definitely be wearing pink this day!
See what we did last year, and click here.
Tri-board Student Transportation Services Inc.
The Tri-board Student Transportation Services staff are having 'Anti-bullying Driver Workshops' this October to support their 'Ride with Respect' campaign. The goal is to educate bus drivers, monitors, and staff to strive towards having bully-free school buses. The workshops include topics such as vigilance, responsibilities, identification, and strategies on the school bus. During these events, Tri-board will issue anti-bullying t-shirts to supporters of the cause. There are two more upcoming workshops on October 22 and 24.
Together we can make a difference
We are blown away by the support and positivity that has come out of our "NO BULLIES ON MY BUS" campaign. It just shows that when joining forces with other anti-bullying campaigns, the shared goal in stopping bullying becomes tangible.
Are you coming to the NAPT Annual Summit on Tuesday, October 22 and Wednesday, October 23? Stop by Seon's booth #400 to join us and support the "NO BULLIES ON MY BUS" campaign. Find out more, right now –> CLICK HERE <–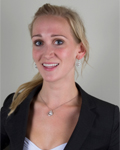 Tia O'Grady
Marketing Coordinator
tia.ogrady@seon.com